Grab your backpacks and sharpen your pencils because it's back to school time! Are you fully prepped for an awesome school year ahead? While some may still be squeezing in those last few beach days, teachers are busy strategizing for a successful new year. From hunting for unbeatable back-to-school bargains to fine-tuning lesson plans, these 10 genius teacher tips will have you rocking the classroom like a pro, whether you're a seasoned expert or a fresh-faced newbie. Get ready to conquer the new school year with ease!
Teacher Tip #1: Harness the Benefits of Tax-Free Weekend
This money-saving tip for teachers really adds up! It's safe to say that teachers know how to stretch a dollar. School supplies add up, as do all the little things teachers need before the school year begins. Luckily, tax-free weekends are often held in certain states before the new school year. It provides a golden opportunity to save big on school supplies and other classroom essentials. Check out these tax-free weekend dates by state to see if your state is on the list!
By taking advantage of these money-saving events, teachers can ensure they have all the necessary tools to teach without breaking the bank. So, mark your calendars, and get ready to hit the stores during tax-free weekend. Your classroom and your wallet will thank you!
Teacher Tip #2: Ease Back Into a Productive Routine
As the final days of summer vacation slip away, it's time to get back into the swing of things. Honestly, this tip for teachers can be easier said than done. It can be challenging to readjust to early mornings after indulging in a summer of late sleep-ins. To make the transition smoother, start getting back on a schedule a week or two before the school bells ring.
Gradually set your alarm a bit earlier each day until you're back on track with your typical wake-up time. Oh, and let's remember the kiddos! Get them up too. Putting forth the effort now will save you lots of exhaustion later.
Teacher Tip #3: Strategize a Game Plan for the First Month
This teacher's tip can so easily fall through the cracks. Don't let it! Teachers know how crazy and overwhelming the first few weeks of school can be. So many things can get in the way of your planning time. Get ready for the new school year by planning ahead. You'll thank yourself later!
Take out your pacing guides and start mapping out the first month of lessons. Use your Year-at-a-Glance to spot areas you wish to improve or change. Knowing which lessons you will teach in the first month will help you quickly organize student work, make copies, and set up centers. Back to school can be chaotic. Having a solid game plan can prevent you from feeling anxious or overwhelmed.
Teacher Tip #4: Prepare for Meet the Teacher Night
Meet the Teacher is always a monumental night during the back to school season. Students look forward to meeting their teacher, and parents are ready to soak up all necessary information. Therefore, preparation is key.
First, consider what information you want to share with parents and students. Reflect on previous years; what has worked well for you and what hasn't? Some teachers prefer having student desks with a folder and all forms and information inside. On the other hand, a new trend has been setting up parent stations where they fill out information little by little.
Prepare the important information now. Copying and organizing the information now will keep you from rushing at the last minute.
Teacher Tip #5: Plan Healthy School Lunches
Teachers are so busy before and after school that it can take a lot of work to squeeze in time to plan and pack a healthy lunch. Luckily, Pinterest is all you need for easy planning!
While you still have a bit of summer left, head over to Pinterest and create a board for healthy lunches. Set aside some time to scroll and discover healthy lunch options that inspire you. Next, make a shopping list on your phone of all the items you need for each lunch idea. Having a digital list handy makes it easy to access your list and select which lunches you want for the week.
Teacher Tip #6 Shop for a Teacher Planner
Teachers are expected to hit the ground running, even before school starts. Often, this means juggling responsibilities both inside and outside the classroom. That's why every teacher needs a planner!
Truly, a good teacher planner guides teachers through the days, weeks, and months ahead. Look for planners that will help you organize lesson plans, write in assignments, or jot down important dates. Teachers are the ultimate multi-taskers, and planners allow teachers to stay on top of multiple tasks.
The Teacher Lesson Planner by Erin Condren and The Big Happy Planner from Michaels are two excellent planner options for teachers. Besides a paper planner, Google Calendar is fantastic for scheduling your personal to-do's. Specifically, scheduling kids' practices, sporting events, appointments, and anything else you don't want to miss will help keep you on track. Additionally, you can sync Google Calendar to your phone to remind you when and where to be after school hours.
Teacher Tip #7: Organize Your Home Life & School Life
Staying organized once the school year begins is always a challenge. Chaos can ensue quickly between your home life and school life. It's hard to feel like you have it all together when life is chaotic.
Luckily, you can use the last few weeks of summer to organize your home and school life. Clean the house, plan your weekly meals, pay those bills, do the laundry, and prep your clothes beforehand. Use the weekend to plan stuff for the week. Organizing the first few weeks of the school year will save your sanity during the long first month of back to school.
Teacher Tip #8: Choose a Classroom Theme and Decorate Your Classroom
This teacher tip is likely the most exciting one—decorating your classroom! Staring at the same old classroom decor from last year gets pretty dull. Give your classroom a fresh new look after a year of wear and tear on labels, posters, and signs.
First, choose a fun classroom theme that inspires you for the upcoming year. Next, print out your resources, laminate, and cut! There are so many fantastic theme options out there, as well as many resources like ready-to-use classroom decor packs! Check out Classroom Themes Made Easy: My Top 4 Classroom Decor Packs to get some inspiration!
Transforming your classroom into an exciting home-away-from-home for you and your students will start the year off right.
Teacher Tip #9: Develop A Classroom Management System That Works For You
An effective classroom management system is crucial to creating a positive learning environment. Reflecting on your classroom management from previous years is a great way to see where gaps or cracks may be in your system. Afterward, look for new and innovative ways to reward students for good behavior.
A quick search on Pinterest or TpT can bring up loads of options for teacher-tested and approved systems. Punch cards are always a student favorite! A punch card system works like a charm with upper elementary students. Check out Punch Cards: The Ulitmate Classroom Reward System to download for free and learn how to implement them with your students.
Trust me, a positive reward system will totally boost student motivation!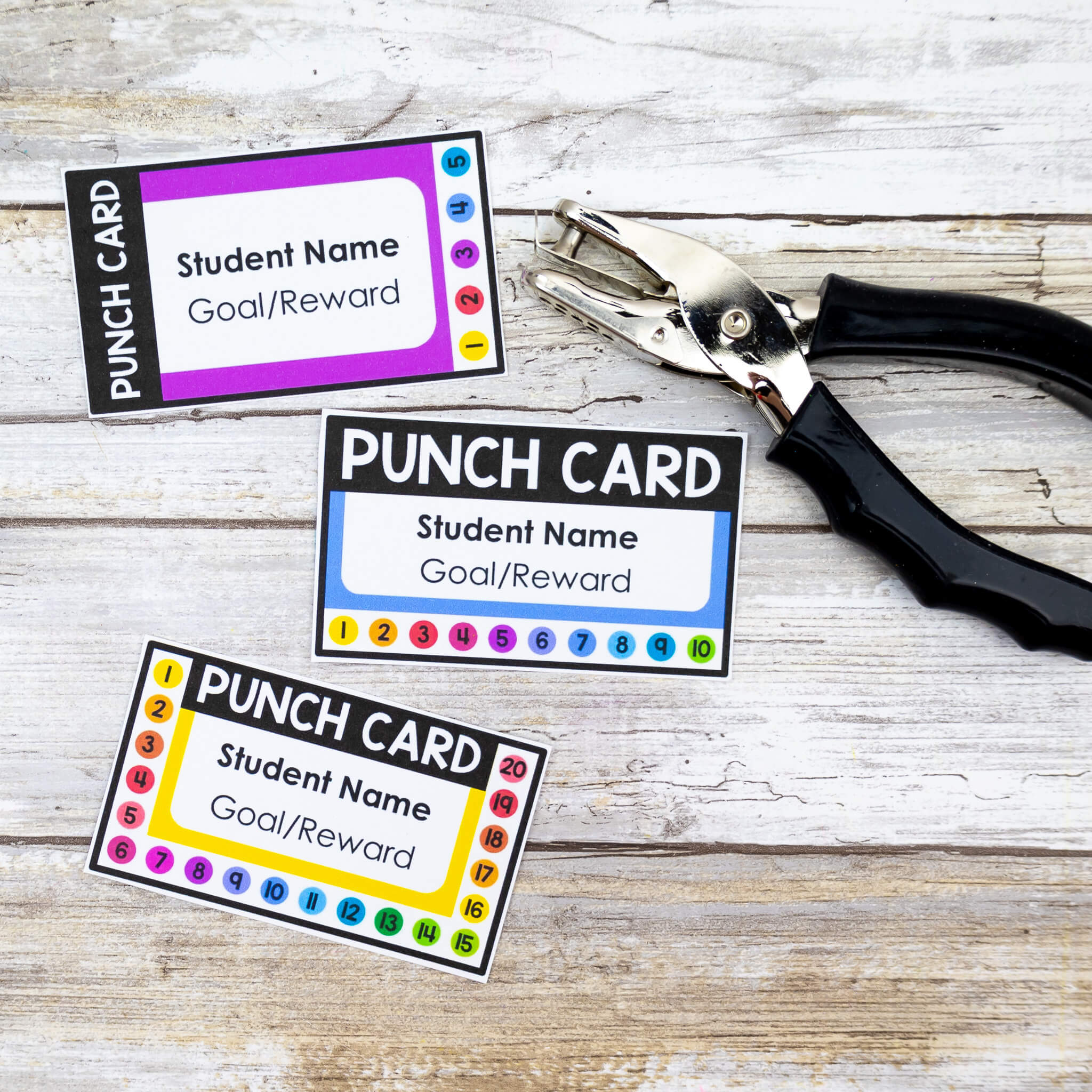 Teacher Tip #10: Plan Bulletin Boards In Advance
Oh, bulletin boards—the dreaded task! It's always wishful thinking to change bulletin boards by season or topic. However, this can totally work if you plan them out in advance. Seriously, plan out each board, store all the pieces together, and mark the date in your calendar to swap them out.
Alternatively, you can opt for boards that stay up all year, like a trusty classroom chores board. Bulletin boards that allow you to easily change student work without redoing the whole thing are also a win! Start searching and planning your bulletin boards now so you don't have to dread it later.
Bonus Teacher Tip: Let Go and Just Breathe
This bonus tip for teachers is included because it is so important. Really, it will help your mental health.
Let go of last year – good or bad! Some years are much more challenging than others, and it's so easy to let last year's emotions linger into the new school year. Remember, it's a new year with a new group of students. Reset your mind and be open to having the best year yet!
Just breathe…the beginning of the year and the first day of school can literally cause nightmares! It's essential to take care of yourself, get plenty of rest, and know that you've done all you can to make the start of this year one to remember!
Ensure you kick off the year as best as possible with these 10 back to school tips for teachers. Have a positive attitude! It's going to be a great year!
Looking for a fun and easy back-to-school activity? Use my All About Me Pennant Banners to decorate a bulletin board! They come in color or black & white for students to complete. Snag them below!
Save this list!
Pin this to your favorite back to school Pinterest board so you can come back to these tips for teachers when you are ready to prepare for the new school year!