Do you dread teaching poetry? I get it! I've been there! The concepts of poetry are oftentimes difficult for children to understand and that makes it challenging to teach. The good news is that it doesn't have to be this way. After years of teaching and practice, I've nailed down a few strategies for teaching poetry effectively in the classroom. They say practice makes perfect, right?
Teaching Poetry
Gone are the days when teaching poetry is done in isolation or with archaic poems that just leave your students scratching their head. Sure, there's a time and place for that but I've found that at the elementary level there's a better way.
My best advice would be to choose a short story or novel that lends itself to teaching the skills and concepts that your students need to master. Today there are many different picture books and novels that have incorporated poetry into their structure. This makes it more fun and exciting for everyone involved!
My favorite books for upper elementary? Love That Dog and the sequel Hate That Cat by Sharon Creech are the perfect companions for teaching poetry in the elementary classroom. The books include a wide variety of poetry elements making them perfect to teach the necessary skills and standards.
Hints for Teaching the Novels
These two amazing novels are unlike any novel you've read before. This is why they are perfect for teaching poetry. These nontraditional novels will have a very different feel and structure. While some students find it confusing and don't understand it at first, other students (especially those reluctant readers) quickly love the short pages and text. With a little guidance, all your students are going to find something they love in these books.
Unlike a traditional poem that is so often jam-packed with figurative language and symbolism, this book includes poetry with many story elements. There is a main character with who your students can relate and connect. There's a plot that grows and develops. It's quite frankly a genius way to introduce students to poetry. These novels are like a bridge between the fiction and poetry genres.
Read and Re-Read
Each section of the book is fairly short and a quick read. So take the time to read it more than once. I like to read the first time just to read the story. Then we go back and reread and dig into the text at a deeper level. This second reading, and the discussion that follows, is when we do a lot of focus on vocabulary and elements of poetry. There are some great examples of similes and metaphors in this book, along with other figurative languages.
Focus on Vocabulary
The more I taught these books, the more I became convinced of the importance of focusing on vocabulary. By the time I felt like I had a great lesson plan, we were including a daily vocabulary review. There is a lot of poetry vocabulary that will be new to students. Take the time to help students learn these important words and understand them. It will really help in their overall understanding of the concepts. I like to start my unit with a poetry vocabulary game and a daily review throughout our study. It is just what they need to master these words.
Make Time for Discussion
Discuss, discuss, discuss! Build time in for a daily discussion of the novel. What I love most about discussion time is that it is a perfect way to model thinking for students. I love nothing more than to start modeling the thinking only to later hear students using that in their own answers. You don't even have to tell them that is what you are doing! Poetry can be tough to understand and comprehend, so just showing and telling students about what you are doing in your head can be a big help.
A Good Place to Start
Whether you are teaching one of these novels or a different poetry unit there is one common place to start . . . poetry terms and vocabulary. Before you can have a good discussion on the elements of poetry students need to know what you are talking about. This is why I always start with poetry vocabulary.
This doesn't always happen at the same time. In fact, many of these are taught throughout the year in writing and grammar lessons. But when we start poetry I always review them. One of my favorite activities for reviewing poetry vocabulary is this matching game.
Students will review 24 different important poetry terms through this game. They are tasked with matching the term with a definition and an example. What I love most about this format is that students aren't just remembering random definitions. They have to apply their learning in order to be able to identify it in action.
Through this free poetry vocabulary sorting game, your students will review terms like imagery, alliteration, simile, metaphor, hyperbole, and other forms of figurative language. They will also learn and review poetry styles like couplet, haiku, cinquain, and more.
Grab this free poetry matching game for your classroom! It's the perfect addition to your poetry introduction lessons and literacy center activities. There's even a black & white version that could be used for interactive notebooks. Simply copy each page at half size and let students add them to their notebooks "lift the flap" style with the definition and example under each term. Sign up below, and this FREE Poetry Vocabulary Sorting Game will be delivered straight to your inbox!
More Poetry Resources
Once my students have an understanding of the poetry terms it's time to jump into our novels. I've taken all of my favorite poetry activities that I have used with these two novels and put them together into resource packs to help you with your poetry lessons.
Teaching Poetry With Love That Dog
Love That Dog Book Response Journal and Poetry Pack is the perfect addition to your poetry unit. It includes everything you need to effectively teach the lesson while keeping your students actively engaged when doing so. Here are a few of the resources included with the pack: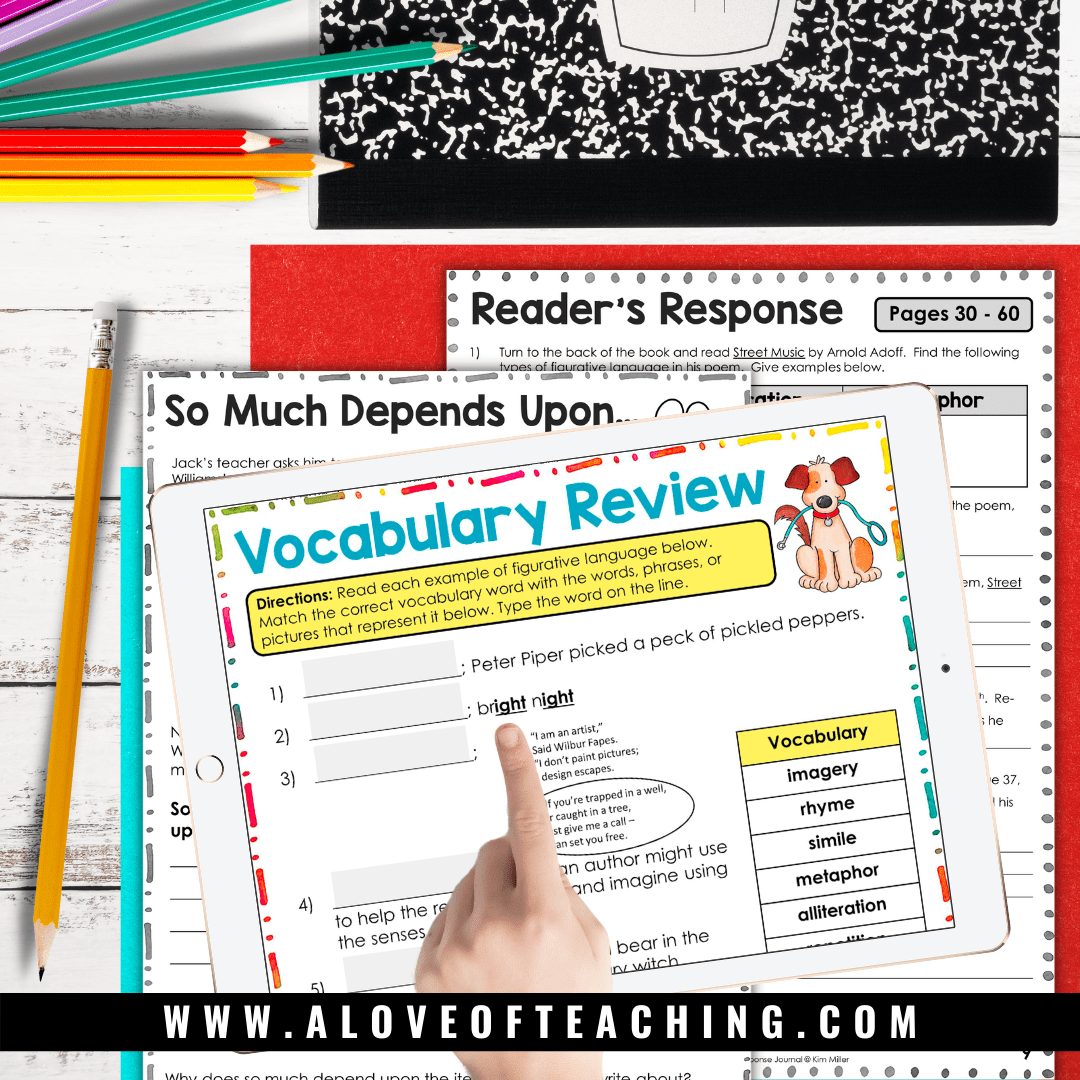 Poetry Survey (a great introductory activity to see what your students think about poetry)
Vocabulary Activities and Review
Reading Comprehension Activities
Book Test
It really does include everything you need for a great book study. The only difference between this and other book studies is the added elements of poetry.
All of the resources in the book study come in printable and digital formats. This makes it so easy to use and differentiate for those students still learning from home. I love mixing it up and doing some on paper and some using technology. No matter what platform you choose your students will get the same quality skills-based activities.
Teaching poetry With Hate That Cat
The sequel Hate That Cat also has a book response journal and poetry pack to continue teaching poetry in a fun and engaging way with your class. In a very similar format to Love That Dog, your students will love the skills-based activities for this sequel. This book study and poetry pack includes:
Vocabulary Practice and Review
Reading Comprehension Activities
Poetic Comparison
A Thesaurus Hunt
Book Test
and so much more! This book study and its activities also come in both print and digital options. No matter your classroom needs you are sure to find activities that are easy to use and that will save you time without sacrificing the quality of your lesson.
Pair these novel studies with the FREE Vocabulary Poetry Sorting Game and you have one great poetry unit that your students will love!
You can find both of these poetry novel studies in my store. Grab one or both and then get ready for the amazing learning that will happen in your classroom!
Save These Ideas for Teaching Poetry
Don't let the thought of teaching poetry cause you to lose sleep. Instead pin this to your favorite classroom Pinterest board and come back when you need more fun and engaging teaching for poetry, figurative language and other important skills and concepts.